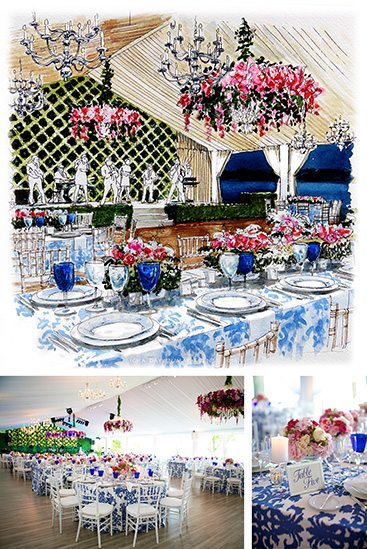 Planning memorable events and creating unforgettable experiences are two of our passions. We believe that entertaining is a form of art. Much like a painter transforms a blank canvas, we use color, light, texture and locale to translate our clients' visions into reality. Our comprehensive approach to entertaining involves diligent planning, unique and thoughtful design and attentive project management. The combination of these elements culminates with seamless execution allowing you to be a guest at your own event.
A Day in May Events designs spaces that are sophisticated and stylish taking inspiration from many design-focused industries including fashion, graphic, interior, automotive, landscape and architecture. Incorporating unique and innovative details such as custom furnishings, textiles, floral, lighting and branding elements, we bring a fresh approach to our client's vision, enhancing their overall experience.
Specializing in tented events, our creative solutions afford our clients the opportunities to create their dream. Over the years we have worked our way through obstacle courses, slayed dragons, and witnessed miracles- yet we continue to approach each new event venture with open eyes and perspective.
Planning a successful event takes time, experience and knowledge. Regardless of the scope and scale, each event is treated with the same attention to detail and enthusiasm! Please contact us to discuss your upcoming event. Service proposals are customized to match your needs and the scope of your celebration.
We look forward to serving you and your family by creating more than just an exceptional event, but making an extraordinary memory.